Islamic Society of Delaware
ISD Quick Donation
Make an instant PayPal donation.


Thank you for your random act of kindness.
Friday, 22 May 2015 09:48
ISD
General Assembly Meeting and Annual
Board Elections 2015-2016


Sunday May 31st after Dhuhr Prayers
Islamic Society of Delaware General Assembly Meeting and Annual Elections for 2015-2016 will be held on Sunday May 31st after Dhuhr Prayers at Masjid Ibrahim. Deadline for Membership or to Nominate someone for the Elections is Friday May 29 at 10:00 PM. You need to be a member to Vote in Elections.

IMPORTANT DATES TO REMEMBER:
The General Assembly Meeting for the election will be on 

May 31st, 2015

promptly after Dhuhr Prayer at Masjid Ibraheem.
ISD Membership Deadline: 

May 29, 2015 at 10:00 PM

.
ISD Nomination Deadline: 

May 29, 2015 at 10:00 PM

.
Election Commissioner: Ahmed Sharkawy - Phone: (302) 898-5544
The first Board of Directors meeting will be on 

June 6, 2015 at 10:30 AM

.
Membership and Nomination forms are also available at Masjid Ibrahim
Islamic Society of Delaware would like to extend sincere thanks and gratitude to the board of director members whose term expire this year. May Allah bless you and your family for your service to ISD and the entire community.

Those board members are:-
Br. Fazal Rashid
Br. Nasir Khan
Br. Syed Anwar Balkhi.
Br. Muhammed Iqbal Aziz.
Br. Wifki Ahmed Kased.

Shopping, Food, Activities and More


Sunday June 7th, 12:00 - 9:00 PM
ISD invites the Delaware Muslim Community to the 2015 Family Fun Day
on

Sunday June 7
.
This is one community event you don't want to miss.
Tahara - Purification in Islam
Youth Halaqa by Sheikh Abdel-Hadi


Friday May 29th

after Maghrib Prayers
Shekh Abdel-Hadi will be conducting a special Halaqa about Tahara (Purification) for the Youth of ages 14 and above. There will be separate sessions for brothers and sisters.  Sister's halaqa will be conducted by a learned sister from our community, Insha' Allah.

Please note this Halaqa was originally scheduled on May 22nd and has been postponed due to Sheikh's unavailability.
Friday, 10 April 2015 22:10
An Islamic Perspective 
An Informative Session with Sheikh Yusuf Estes  


Sunday May 3rd, 1:45 PM

at Islamic Society of Delaware
Islamic Society of Delaware is pleased to invite the community to an Informative session on Islam with Sheikh Yusuf Estes addressing common questions, concerns and issues . The program is open for all ages and we request everyone to join us with your family. This is also an opportunity to bring your friends and neighbors of other faith to the Masjid and get enlightened by the esteemed Sheikh.
Muaddhin - A Historic Journey Accross America


Monday May 4th, 9:00 AM

at Islamic Society of Delaware

Jameel A. Syed of Auburn Hills, Michigan has embarked on a journey to become the first Muaddhin in the history of America to make the Adhan in all of it's fifty states. He will be at Masjid Ibrahim on 

Monday May 4th

between 

9:00 AM and 2:00 PM

and give the Dhuhr Adhan.
Join us in welcoming Jamal Syed to Delaware on his spiritually motivated journey that will capture the essence of fifty American Muslim communities, the beautiful landscape of America and one man's vision to achieve his life long dream.
Website:
http://muaddhin.com
Facebook:
https://www.facebook.com/muaddhin
Support:
http://www.gofundme.com/
muaddhin
A Message from the President of ISD
Dear Respected Community Members
Assalamu Alaikum Wa Rahmatullah Wa Barakatuh

The fundraising event scheduled for Saturday evening carries a special significance due to participation by Shiekh Yusuf Estes, an internationally renowned Muslim scholar. ISD is glad to be able to provide this opportunity to the community to meet and directly hear from a scholar of such a high stature, which he has earned by his significant contributions in spreading the message of Islam. We are looking forward to seeing most of the community availing this opportunity and actively participating in the event.

ISD holds three (3) fundraising events each year: Ramadan, End of Year, and the one to support its school, IAD around this time of year. Accordingly, the main objective of the fundraising this Saturday is to raise funds to support IAD. However, due to some much needed repair and maintenance work for ISD property such as repair of parking lot, we also plan to raise funds for them. We request all of you to donate generously. May Allah (SWT) bless you and your families with best rewards for your continued support. Should you have any questions or need more information about the event or ISD / IAD operations, please do not hesitate to discuss them with me.

Best Regards,

Qamar Ahmad
ISD President

ISD Fundraiser to Support the Full Time School
Guest Speaker: Sheikh Yusuf Estes
Saturday May 2, 2015 at 5:30 PM
Newark High School - 750 E. Delaware Ave, Newark DE

Tickets for the ISD-IAD Saturday Fundraising Dinner with guest speaker Sheikh Yusuf Estes are SOLD OUT. We will try to accommodate as many people as possible at the door, but no guarantees can be made if you do not currently hold tickets. Those that have already purchased tickets, please be sure to arrive early to ensure seating.
Doors open at
5 pm
and will close at
6 pm
sharp and the program will start at
5:30 PM
. For those that would like to follow the event, it will be broadcast live on GuideUS TV. Your contribution can be sent in via PayPal (which will be added in real time), mailed in or brought into the school. All donations are tax deductible.
Jazakum Allahu khairun for your overwhelming support.
ISD/IAD staff, administrators and board members
For Information Please Contact:
IAD Office:  302-455-9988
Br Qamar: 302-690-1502
Br Arif: 302-442 0998
Br. Abouzeid: 302-893-9111
About Sheikh Yusuf Estes
Sheikh Yusuf was raised in a strong Christian home in Texas  Since coming to Islam in 1993, he has helped thousands of new people entering Islam. Yusuf Estes is loved by children and adults of all faiths. They delight to hear him entertain as he brings the pure message of Islam in simple English terms, and he makes it fun and easy to understand, while referring to Quran and teachings of Islam. Sheikh Yusuf Estes is the  founder of the very first America television channel for Islam called GUIDE US TV.
Friday, 10 April 2015 21:24
Ustadh Hamza Tzortzis at ISD

Call Of Duty - A Call to Action

Sunday April 12 at 1:30 PM

Please join us for an inspiring afternoon with renowned scholar Hamza Tzortzis from Europe. Learn the most effective techniques of engaging and inviting people to Islam and answering questions about Islam.

This free program is open for all ages, youth and adults alike. We request everyone to invite your friends and families from Delaware and neighboring communities to come and get benefit from the teachings of Ustadh Hamza.
Hamza Andreas Tzortzis
Br. Hamza Andreas Tzortzis is an international public speaker on Islam, a writer, lecturer and intellectual activist. He is particularly interested in Islam, politics, western and Islamic philosophy.

Br. Hamza is a regular speaker at UK University campuses, and has also travelled the world extensively to deliver lectures, most notably in the USA, Malaysia, Canada and Lebanon. Br. Hamza has authored a number of Islamic publications, including the popular website www.theinimitablequran.com as well as serialising number of articles on his popular blog. Br. Hamza is one of the main initiators of the contemporary emergence of Muslim public debaters and speakers using western and Islamic philosophy to defend and explain Islam. Br. Hamza is the Head of iERA Research and Lecturer for iERA.
Annual Christina River Watershed Cleanup

Saturday April 18 - 8:00 AM - 12:00 PM
Help clean the single most important natural resource in our region – the waterways. The Christina River Watershed provides 75% of the public water supply for residents and businesses in New Castle County. A solid effort is needed annually to improve wildlife habitat and keep each of these waterways as free from debris as possible.
This event is a great family outing while doing something constructive for the community.
Islamic Society of Delaware has been involved in this effort for past 7 years and this year again volunteers from ISD and ICNA will work together to keep our environment clean. All volunteers are requested to meet at
Masjid Ibrahim on Saturday, April 18, 2015 at 8:00 AM
to go together to
Fox Point State park
or other locations and join other volunteers. Everything should finish by 12 noon insha' Allah.
It is recommended that volunteers wear brightly-colored clothing, long sleeves and pants, boots or water resistant shoes, hat, heavy duty gloves, insect repellent, and sunscreen.
Participants will receive free T-shirts. Please mention your T-shirt size while registering.
Community Health and Wellness Fair at ISD

Saturday March 28, 2015 @ 9:00 AM
Islamic Society of Delaware would like to invite our community members to a free health and wellness clinic day scheduled for Saturday March 28, 2015, 9:00 am to 4:00 pm
Many Doctors and health professionals, with support staff and equipment from their offices, will offer free health service to our community members.  If you don't have health insurance, this is a good opportunity to meet the health professional from our community, check your blood pressure, get screened for diabetes or Cholesterol, or even get free tips to stay healthy.  If you have a doctor you can still consult to see if you are using the best medications available or if there are better ones you can use. For the community youth, if you are interesting in a career in health and medical fields you can also get the information you need from these health professionals.

In addition to the free health screening and lab work, there will be workshops and lectures to help our community stay healthy and be better prepared for any emergency.
ISD Health & Wellness Fair 2015 Activities
Blood pressure checks
Blood sugar checks
EKG and Echocardiogram
Chiropractic check & information
Diabetic education/awareness
Emergency preparedness information
Karate for fitness – information on classes & demonstrations
Lab draws for Cholesterol
Pharmacy consultants
Walk for Wellness program information
Weight loss & healthy eating information
CPR Training information

We encourage all community members, especially the youth, to volunteer and participate in this this event and take advantage of this opportunity to meet and consult with our community health professionals.  Please come fast and ready for blood test & health screening   

If you like to participate or have questions about this event, please contact:
Hassan Mageid: 302-588-5516 or Nasir Khan:  302-290-7098

ISD Events
Sunday, 21 September 2014 03:47
Islamic Society of Delaware is pleased to announce that Karate and KickBoxing classes will be held at the Masjid, please click on the flyer for more information and registration @ Karate & KickBoxing Registration Form: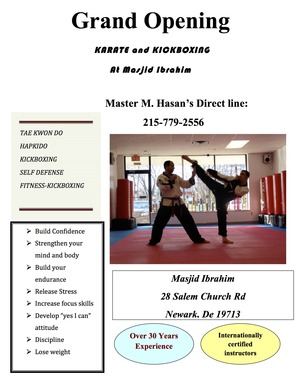 ISD Events
Sunday, 09 March 2014 20:43
Assalamu Alaikum Warahmatullahi Wabarakatu,
Great News for the whole community: Insha'Allah, We will have two Jumah Prayers at Masjid Ibrahim starting Friday March 14. We request community members to actively participate in the 2nd Jumah Prayers and help ease the traffic and congession on Salem Church Rd. We also advise everyone to move your cars quickly from the Masjid and German Club parking after the 1st Jummah Prayers and make room for the brothers and sisters for the 2nd Jumah Prayers.
1st Jumah Prayer:
     Khutba: 1:00 PM - Iqamah: 1:30 PM
 2nd Jumah Prayer:
     Khutbah: 2:15 PM - Iqamah: 2:45 PM
Please fill-in this form to raise your comments /questions/suggestion to the ISD Board and Sh. Abdel Hadi Insha'Allah.
Jazakallah Khair.
Quran Verse
Verse of the day:
Every soul that hath sinned, if it possessed all that is on earth, would fain give it in ransom: They would declare (their) repentance when they see the Chastisement: but the judgment between them will be with justice, and no wrong will be done unto them. 10:54
Community Sponsors
Prayer Times
Who's Online
We have 8 guests online




Powered by Joomla!. Designed by: eshop hosting hosting Valid XHTML and CSS.

asd