Islamic Society of Delaware
Sunday 01st of February 2015
ISD Quick Donation
Make an instant PayPal donation.


Thank you for your random act of kindness.
Friday, 23 January 2015 12:26
Saudi Arabia's King Abdullah bin Abdulaziz Passed Away at the Age of 90
Inna lillahi wa inna ilayhi raji'un
إِنَّا لِلّهِ وَإِنَّـا إِلَيْهِ رَاجِعونَ
Custodian of Two Holy Mosques King Abdullah bin Abdulaziz died early on Friday and his brother Prince Salman bin Abdulaziz became king, the royal court said in a statement carried by Sauidi State Television.

King Salman has named Prince Muqrin bin Abdulaziz as his crown prince and heir.

"His Highness Prince Salman bin Abdulaziz Al Saud and all members of the family and the nation mourn the Custodian of the Two Holy Mosques King Abdullah bin Abdulaziz, who passed away at exactly 1 a.m. this morning," said the statement.

King Salman has been crown prince and defense minister since 2012. He was governor of Riyadh province for five decades before that.

Islamic Society of Delaware and the Muslims of Delaware are deeply saddened by his passing and convey our respect and  condolences to the family of King Abdullah bin Abdulaziz, to the people of Saudi Arabia and all Saudi students at University of Delaware. King Abdullah was a generous man who took care of the people of Saudi Arabia and the Muslims around the world.  May Allah SWT have mercy on him and grant him the highest status in Jannah. Ameen.
Thursday, 22 January 2015 21:52
In accordance with the decision made by the ISD Board last year, an Incidents Report has been completed for certain incidents that occurred in the last couple of years.
This report has been prepared by the Incidents Report Committee consisting of 3 sincere senior members of our community: Dr. Saleem Khan, Br. Tufail Chaudhri, and Br. Yahia Hashem. The Committee had complete independence in defining it's procedures and form and contents of the report.
We greatly appreciate the efforts and the dedication of the Committee members to help complete this important task. May Allah  (SWT) bless them and their families with the best rewards.
The Incident Report can be viewed HERE
Friday, 09 January 2015 11:28
MIST 2015 Interest Meeting
Sunday January 11 at 12:00 PM
The first 

MIST

interest meeting at the Islamic Society of Delaware/Masjid Ibrahim will be on:
Sunday, January 11th at NOON

!
Please be on time. We will get started with the presentation right away. This meeting will be relatively short (about an hour), and we will follow up with a registration meeting.
*Any college student interested in volunteering to help out the Delaware teams should also attend the meeting.

Hope to see you all and many new and OLD faces on 

Jan. 11

, In sha Allah! Make sure to bring your friends and get new people hype about 

MIST

!

Questions? Contact Delaware's registration coordinators:
The Community
Friday, 31 October 2014 11:05
Insha'Allah, the Friday Prayer timings will change starting Friday November 7. We request community members to actively participate in the 2nd Prayers and help ease the traffic and congestion on Salem Church Rd. We advise everyone to move your cars quickly from the Masjid and German Club parking after the 1st Prayers and make room for the brothers and sisters for the 2nd Prayers.
1st Prayer -  Khutbah:12:00 PM - Iqamah:12:30 PM
2nd Prayer - Khutbah:1:15 PM - Iqamah:1:45 PM
Jazakallah Khair.
ISD Events
Sunday, 21 September 2014 03:47
Islamic Society of Delaware is pleased to announce that Karate and KickBoxing classes will be held at the Masjid, please click on the flyer for more information and registration @ Karate & KickBoxing Registration Form: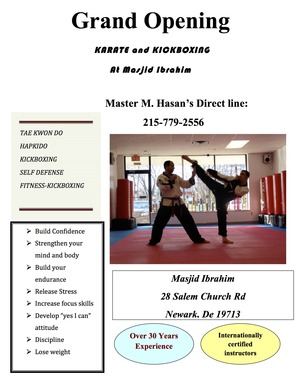 ISD Welcome Messages
Saturday, 06 September 2014 01:37
ISD Education Committee is please to announce the start of Youth Leadership Program for year 2014-15. Targeted towards high school students, this interactive workshops style program focuses on transforming our youth to successful Leaders by developing their character under the guiding principles of Islam. Separate workshops will be conducted for brothers and sisters every Sunday.
«

Start

Prev

1

2NextEnd »
Page 1 of 2
Quran Verse
Verse of the day:
Among them are men who molest the Prophet and say, "He is (all) ear." Say, "He listens to what is best for you: he believes in Allah, has faith in the Believers, and is a Mercy to those of you who believe." But those who molest the Messenger will have a grievous chastisement. 9:61
Community Sponsors
Prayer Times
Who's Online
We have 1 guest online
localdosting